Churandy Martina is a world famous sprinter from Curaçao. His personal best time over 100 metres is 9.91 seconds, a Dutch record, achieved in a 2012 London Olympic Games semi-final. In addition, he holds the 200 metres national record with a time of 19.81 seconds, achieved at the IAAF Diamond League meeting in Lausanne, Switzerland (click here). I was lucky to have met him last Saturday.
.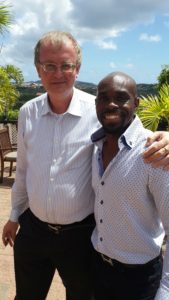 .
Karel Frielink
(24 October 2016) .
New home run king from Curaçao crowned in Japan
Tokyo Yakult Swallows player Wladimir "Coco" Balentien from the island of Curaçao, a former major leaguer hit his 56th and 57th home runs on Sunday September 15, 2013, breaking the Japanese single-season record set by Sadaharu Oh 49 years ago.
"Former big-league outfielder Wladimir Balentien, Japan's new single-season home run king with 57 blasts (and counting), has a couple of friends in the Twins' bullpen. One of them is right-hander Shairon Martis, who comes from the same hometown (Willemstad) on the tiny …
Read the rest »
was wrongly disqualified
On 20 August 2008, Churandy Martina won the silver medal in the 200 metres at the Olympics behind Usain Bolt in 19.82 seconds, the first time he had run sub-20s. He was the first medal winner for the Netherlands Antilles after Jan Boersma won silver in sailing at the 1988 Summer Olympics in Seoul.
But Churandy Martina later was disqualified after the U.S. team protest that he had run out of his lane. However, the Netherlands Antilles has appealed to the Court of Arbitration for Sport (CAS) in Lausanne to restore …
Read the rest »