Bundel adviezen tussentijdse ontbinding Staten van Aruba, Curaçao en St. Maarten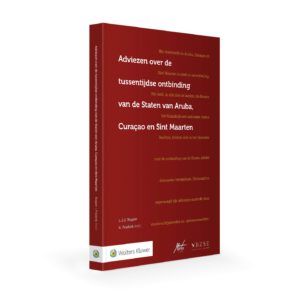 .
In dit door prof.mr Lodewijk Rogier en mr Karel Frielink verzorgde boek zijn de belangrijkste adviezen gebundeld die de afgelopen jaren zijn gegeven over de staatsrechtelijke crises in Aruba, Curaçao en Sint Maarten. De uitgave is uniek in zijn soort en sluit aan op de staatsrechtelijke ontwikkelingen in de drie landen.
In Aruba, Curaçao en Sint Maarten, die binnen het Koninkrijk …
Read the rest »
Tijd voor verbeteringen?
Wetten zorgen in onze samenleving voor sturing en ordening. Ze bepalen welke bevoegdheden en verplichtingen we hebben. Ze verschaffen ons vrijheid en stellen tegelijkertijd grenzen daaraan. Wetten zijn er – zogezegd – in alle(rlei) soorten en maten.
Al eeuwen wordt er gediscussieerd over wetten, breder: over het recht, en de vraag naar het gezag daarvan. Waarom moeten we ons aan wetten houden? Waarop zijn wetten (en de daarin vastgelegde normen) gebaseerd? Ik verwijs naar een interessante studie van Shirley Robin Letwin, On the History of the Idea of Law (Cambridge University Press; reprinted 2007). En voor wie …
Read the rest »
Speech by Karel Frielink, President of the Curacao Bar Association, given on Friday 21 September 2012 on the occasion of the inauguration of three judges of the Joint Court of Justice of Aruba, Curacao and St Maarten and of Bonaire, St Eustatius and Saba
Madam President! Excellency! Ladies and gentlemen!
"Our government, our parliament and our judiciary are the cornerstones of the sustainable, positive development of our Country. With our belief in God we shall enjoy His protection, for blessed are those whose God is the Lord. We shall pull together and serve our Country with love in equality …
Read the rest »